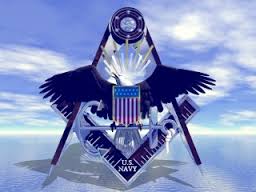 My Brothers,
Where is your apron? Nothing else in all of Masonry ties you so closely with all your brothers in  history like the lambskin or white leathern apron," More ancient then the Golden Fleece, or Roman Eagle, more honorable than the Star and Garter".
One of the most memorable moments of becoming a Mason is when you are presented with your Masonic Apron. And after our death, when family and brothers bid farewell, it is placed with you for the hereafter.
A few years ago while at the supermarket a woman noticed my masonic ring. She noted that her father, who recently died was a mason. after his death they couldn't find his apron to bury with him. It was one of his wishes to have a masonic funeral and be dressed as a Mason.
This led me to think, do you know where your apron is? Better yet does your family know where it is? Too many times the family does not know where to find it since it may have been many years since your EA Degree.
Please, let your family know your wishes and tell them where to find your apron. In order that you may to the lodge on high wearing your badge as a Mason.
Fraternally,
Kevin M. Albora,  WM